Published On : 2022-09-13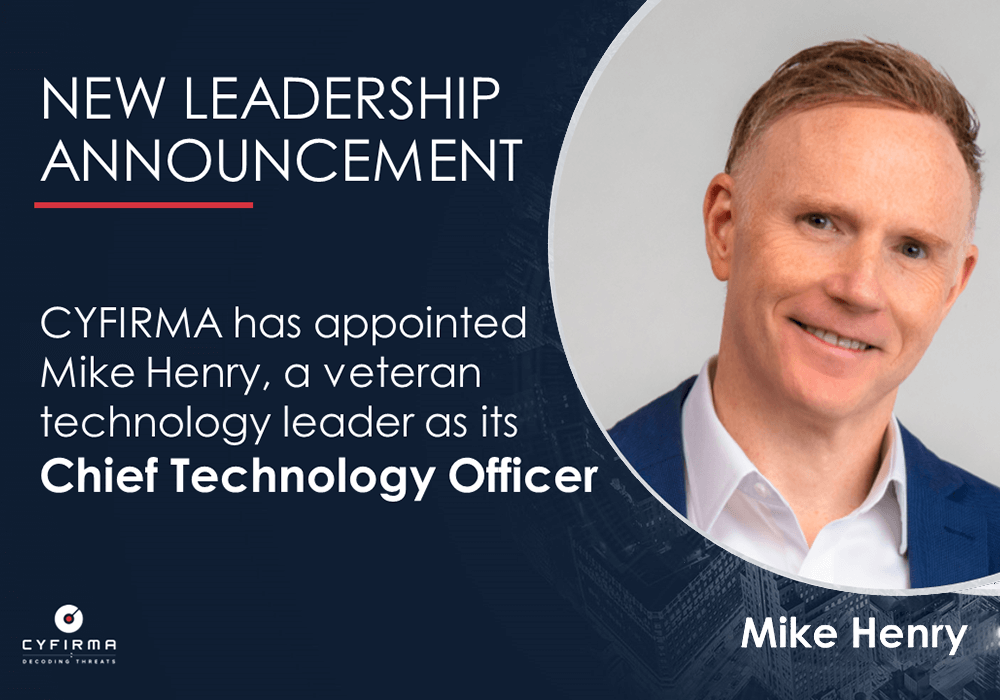 Singapore – Sep 13, 2022 – CYFIRMA, an external threat landscape and cyber-intelligence platform company, with business operations across APAC, EMEA and the US, today announced that it has named veteran technology leader Mike Henry as its Chief Technology Officer.
Prior to joining CYFIRMA, he was the Chief Technology Officer for Singapore Sports Hub, an integrated Sports, Entertainment and Lifestyle Hub. As part of the core leadership team, he was responsible for full strategic and operational accountabilities across the entire technology landscape. During his stint there, Mike has helped drive a wide range of innovations in the world of sports technology.
Mike was also the Head of Digital Experience at BHP. During those years, he was responsible for the Mobility, Application Development, Collaboration, Content Management and User Experience teams worldwide.
Mike has been actively contributing to the start-up ecosystem by mentoring young companies in Australia, Singapore and Indonesia. In addition, as the Vice Chair of the Digital and Cyber Industry Group at the Australian Chamber of Commerce (Singapore), Mike is driving thought leadership on digital transformation and cyber security across the region.
"I'm thrilled to have Mike join our leadership team at this exciting stage of CYFIRMA's growth. CYFIRMA is a company built by cybersecurity practitioners for cybersecurity practitioners to solve real-world problems. Mike will now apply his deep expertise in the areas of Experience-Driven Transformation, Cognitive Automation, Artificial Intelligence, Cyber Security and Customer Experience to articulate and build out my vision for CYFIRMA's technology. In this pivotal role, Mike will ensure our core platforms and innovations continue to provide unmatched value to our clients," said Kumar Ritesh, Founder and CEO of CYFIRMA.
ABOUT CYFIRMA
CYFIRMA is an external threat landscape management platform company. We combine cyber intelligence with attack surface discovery and digital risk protection to deliver early warning, personalized, contextual, outside-in, and multi-layered insights. Our cloud-based AI and ML-powered analytics platforms provide the hacker's view with deep insights into the external cyber landscape, helping clients prepare for impending attacks. CYFIRMA is headquartered in Singapore with operations in APAC, EMEA and USA. The company is funded by Goldman Sachs, Zodius Capital, and Z3 Partners.