Published On : 2023-03-13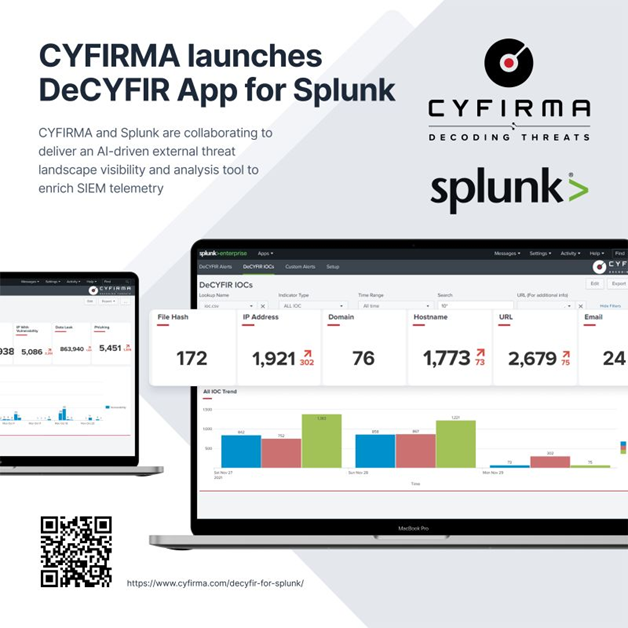 Announcement
CYFIRMA Integrates with Splunk to Enrich SIEM Telemetry
Splunk users can now enrich their SIEM telemetry with AI-driven external threat landscape insights from CYFIRMA
CYFIRMA and Splunk are collaborating to deliver an AI-driven external threat landscape visibility and analysis tool to enrich SIEM telemetry.
The insights provided by CYFIRMA correlate IOCs with malware associated with active hacking campaigns, threat actors, and the next action planned by cybercriminals to give security operations teams the ability to respond to malware with improved efficiency and effectiveness.
The collaboration allows security teams to identify newly created malware that is being used in cybercrime communities before it is seen by any cybersecurity controls. Equipped with the capability to detect malware, viruses, malicious payload in the wild, hackers' methods, and techniques to infiltrate, infect and exfiltrate, the collaboration allows security teams to detect an attack before it impacts their environment.
Organizations can take identified malware in the wild, and its behavioral pattern, and apply that to EDR, XDR, NDR, and perimeter security controls to proactively defend against unseen threats.
The DeCYFIR's Splunk App is now available in Splunk's marketplace Splunkbase
https://splunkbase.splunk.com/app/6190
#externalthreatlandscape #cybersecurity #cyberintelligence #visibility #cyberthreats #malware #iocs