Published On : 2020-08-03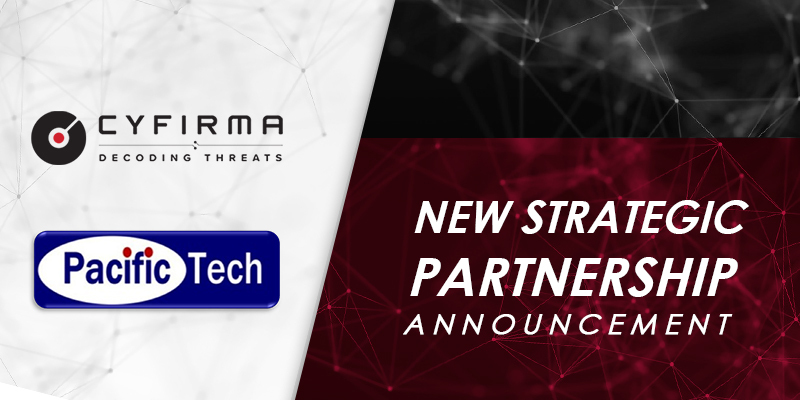 SINGAPORE, Aug 3, 2020 / — As part of its market expansion plan, CYFIRMA, a threat discovery and cyber-intelligence platform company, funded by Goldman Sachs, Zodius Capital and Z3Partners, today announced its new strategic partnership with Pacific Tech Group, a value added distributor for cybersecurity, data protection, managed security services and IOT security solutions.
Pacific Tech has an extensive network of resellers and partners in Singapore, Malaysia, Thailand, Myanmar, Cambodia, and Brunei. As an established distributor in the region, Pacific Tech has won multiple awards from its vendor ecosystem including Extreme, Kemp, Thales, Radware and Sophos. Notably, it has also garnered the  Top Distributor Award (Singapore and ASEAN) and APAC Distributor Partner of the Year Award from Fortinet.
Pacific Tech supports resellers with deep technical expertise in the security category and has identified cyber-intelligence as the missing piece of puzzle to complete its portfolio. CYFIRMA's cyber-intelligence modules under the flagship product brand 'DeCYFIR' have been selected for their innovative approach to decoding cyberthreats for both government and businesses.
With DeCYFIR platform, organizations identify potential threats at the planning stage of cyberattacks. The platform picks up threat indicators as observed in deep/dark web, hackers' forums, and other closed communities, and predicts upcoming attacks based on a set of probability models and analytical engines.
DeCYFIR provides quality intelligence which is relevant to the client's specific industry, geography, and technology. The platform has the unique capabilities to connect the dots between hackers, exploit campaigns, motivations, and attack readiness. This provides the enterprise a complete contextual analysis of its threat landscape.
"The COVID-19 pandemic has accelerated digital transformation – what would have taken three years to digitized has now been compressed to three months. This rapid pace has resulted in many new attack surfaces rendering new vulnerabilities which organizations were never prepared for. Conventional approach with perimeter and layered defence is proving to be no match for well-funded and highly creative cyber criminals. We are thrilled to bring CYFIRMA's intelligence-driven approach to cybersecurity to the SEA market and we are confident the solution will close the gap on how organizations here manage cyber risk and build effective cybersecurity strategies," Andy Woo, Co-Founder and Regional Director, Pacific Tech.

"The world is steadily gravitating towards further fragmentation due to nationalistic agendas and the race for geopolitical supremacy. The pandemic and uncertain economic outlook have exacerbated cyber warfare and created opportunities for corporate espionage. We have seen over 600% increase in phishing, malware, brute forces, and web-based attacks in the last four months. This worrying trend requires companies to relook at how cybersecurity posture is managed and strengthened. We believe having visibility to threats at the early stage where hackers are planning their exploits will give organizations the much-needed advantage to fend off imminent attacks. We look forward to working closely with Pacific Tech to make SEA a safer place for businesses to digitalize and thrive," Kumar Ritesh, Founder and CEO, CYFIRMA.
ABOUT PACIFIC TECH
Pacific Tech is a Value Added Distributor, providing Cyber Security, Data Protection, Managed Security Services and IOT Security solutions to various market verticals in the APAC region. We have direct business coverage in Singapore, Malaysia, Thailand, Myanmar, Cambodia, Brunei and rest of APAC with thousands of partners supporting us deploying our solutions across Asia Pacific, Europe, Middle East and America.
Pacific Tech is also an award winning distributor in ASEAN and APAC for most of the vendors which we distribute. We have won awards such as Sophos and Fortinet's Top Distributor for Singapore since we started distributing their products as well as ASEAN and APAC Distributor Partner of the Year Award. We have also won Fortinet's Managed Security Service Provider (MSSP) of the Year 2014 since we started our MSSP business.
ABOUT CYFIRMA
Headquartered in Singapore and Tokyo, CYFIRMA is a leading threat discovery and cybersecurity platform company. Its cloud-based AI and ML-powered cyber intelligence analytics platform helps organizations proactively identify potential threats at the planning stage of cyberattacks, offers deep insights into their cyber landscape, and amplifies preparedness by keeping the organization's cybersecurity posture up-to-date, resilient, and ready against upcoming attacks.
CYFIRMA works with many Fortune 500 companies. The company has offices and teams located in Singapore, Japan and India.