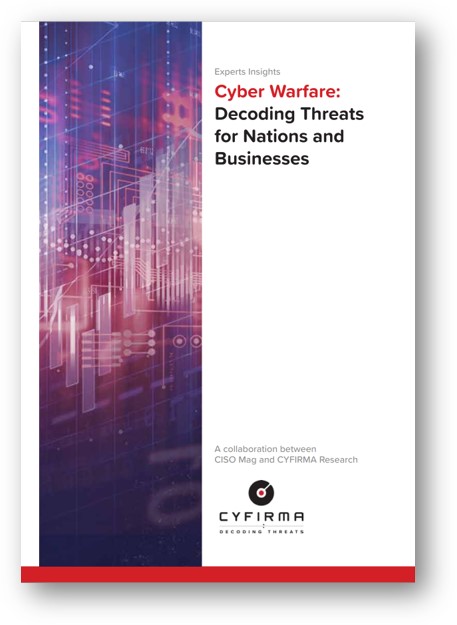 Cyber Warfare – Decoding Threats for Nations and Businesses
Over the past two decades, businesses, governments and the general public have all witnessed an unprecedented growth of digitization and digital economy. From designing critical infrastructure to selling and buying of an ink pen worth a few dollars, all this can be done on a digital platform. The threat actors and their attack surfaces have evolved, expanded, and now replacing the traditional combat warfare with a new tack – The Cyber Warfare. This whitepaper answers some of the most frequently and inquisitively asked questions about the What, Where, When, and How of Cyber Warfare. We shed light on the fact that although there's a country vs country angle to Cyber Warfare, the enterprises and businesses in these countries bear the brunt of their respective governments and decision makers. This tack of warfare can bring down governments as it not only affects the public infrastructure but also private businesses and enterprises.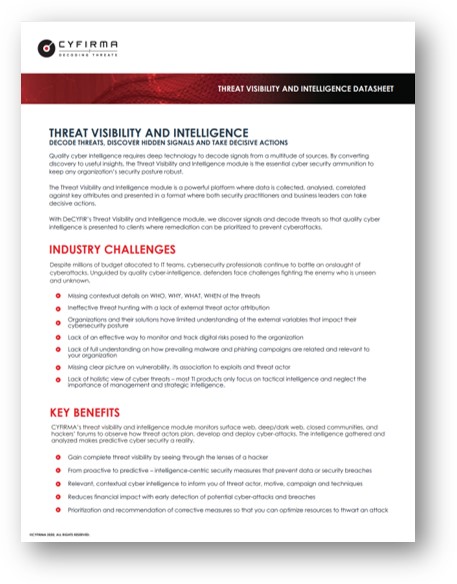 Threat Visibility and Intelligence
Quality cyber intelligence requires deep technology to decode signals from a multitude of sources. By converting discovery to useful insights, the Threat Visibility and Intelligence (TVI) module is the essential cyber security ammunition to keep any organization's security posture robust. The Threat Visibility and Intelligence module is a powerful platform where data is collected, analysed, correlated against key attributes and presented in a format where both security practitioners and business leaders can take decisive actions. With DeCYFIR's Threat Visibility and Intelligence module, we discover signals and decode threats so that quality cyber intelligence is presented to clients where remediation can be prioritized to prevent cyberattacks.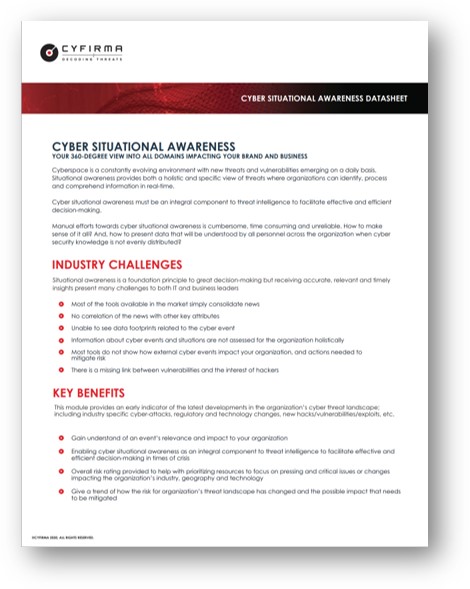 Cyber Situational Awareness
Cyberspace is a constantly evolving environment with new threats and vulnerabilities emerging on a daily basis. Situational awareness provides both a holistic and specific view of threats where organizations can identify, process and comprehend information in real-time. Cyber situational awareness must be an integral component to threat intelligence to facilitate effective and efficient decision-making. Manual efforts towards cyber situational awareness is cumbersome, time consuming and unreliable. How to make sense of it all? And, how to present data that will be understood by all personnel across the organization when cyber security knowledge is not evenly distributed? Cyber Situational Awareness (CSA) module is your 360-dgree view into all domains impacting your brand and business.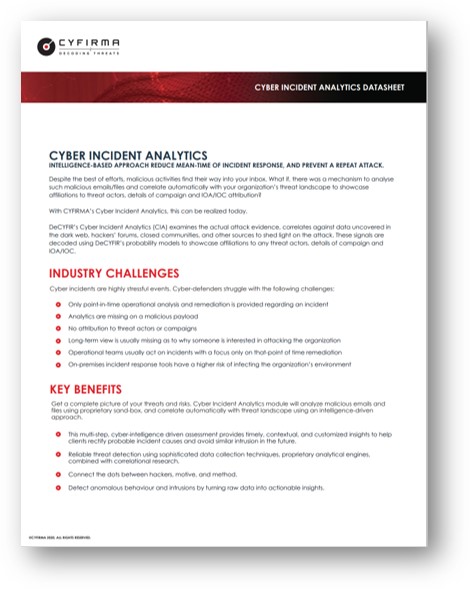 Cyber Incident Analytics
Despite the best of efforts, malicious activities find their way into your inbox. What if, there was a mechanism to analyse such malicious emails/files and correlate automatically with your organization's threat landscape to showcase affiliations to threat actors, details of campaign and IOA/IOC attribution? With CYFIRMA's Cyber Incident Analytics, this can be realized today. DeCYFIR's Cyber Incident Analytics (CIA) examines the actual attack evidence, correlates against data uncovered in the dark web, hackers' forums, closed communities, and other sources to shed light on the attack. These signals are decoded using DeCYFIR's probability models to showcase affiliations to any threat actors, details of campaign and IOA/IOC.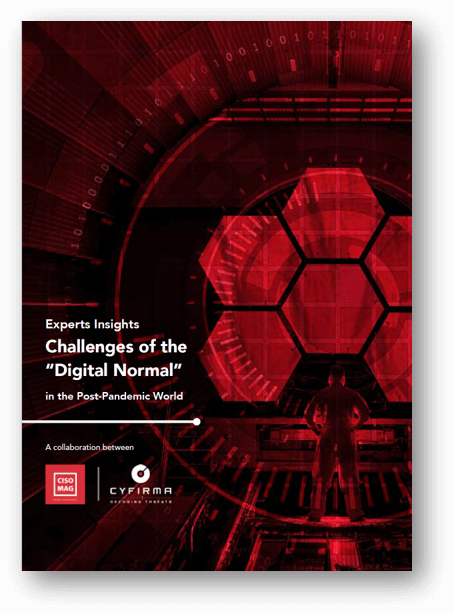 Challenges of the Digital Normal
Across industries, companies are downsizing operations and putting employees on furlough or issuing pink slips. Some countries have resumed manufacturing, though on a reduced scale. The airlines have just reopened bookings in some regions. All US states have reopened, and people are getting back to work. While we see green shoots and a glimmer of hope, business will never be the same again. Economists warn that it will take a decade to restore the world economy to pre-Covid levels. Read how businesses are transforming and the impact on cybersecurity.